Submitted by
Charlotte Anthony
on October 5, 2011 - 7:03pm
Inequality in the Age of Mass Incarceration – Featuring Harvard Professor Bruce Western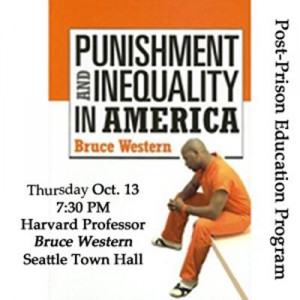 Date: Thursday October 13, 2011
Location: Seattle Town Hall – 1119 Eighth Avenue
Time: 7:30 PM
Tickets: $5
Tickets at the door or online at Brown Paper Tickets:http://www.brownpapertickets.com/event/190368
The Post-Prison Education Program is proud to host "Inequality in the Age of Mass Incarceration
Featuring Harvard Professor Bruce Western," author of "Punishment and Inequality in America."
Co-sponsored by Real Change Homeless Empowerment Project, and League of Education Voters.
Today nearly 60% of black male high school drop-outs have spent some time in prison. Starting in the 1990s, the "tough on crime" mentality has created a complex web of increased policing and
surveillance; the decimation of economic opportunities; and an ever-increasing racial wealth gap, which has continued the vicious cycle of crime, poverty, and broken communities. In his groundbreaking book, "Punishment and Inequality in America" Professor Bruce Western of Harvard University, explores the root causes of mass incarceration and the interlocking systems of economic and racial oppression in our communities today. He further describes the heavy burden of racial and economic inequality and severe punishment on the very fabric of our society.
Please join us for a pre-event reception at 6:30PM to meet and greet our keynote speaker. We will be selling Professor Western's groundbreaking book, "Punishment and Inequality in America". Then join us for a keynote presentation by Harvard Professor Bruce Western, Ph.D., followed by a panel discussion featuring Larry Gossett, Chair of King County Council, and Doug Merlino, author of "The Hustle"; Leno Rose-Avila, Director of Community Health and Safety Committee, Latino Community Fund; Eileen Farley, Director of Northwest Defender Association; Lisa Daugaard, Deputy Director & Racial Disparity Project, Supervisor at the Defender Association; Kimberly Gordon, Attorney at Gordon and Saunders; Professor Alexes Harris of University of Washington; Maggie Wilkens of League of Education Voters, among others.
Reserve your spot now from Brown Paper Tickets! More event details on Facebook and Seattle Town Hall!