Submitted by
Charlotte Anthony
on November 1, 2011 - 9:27pm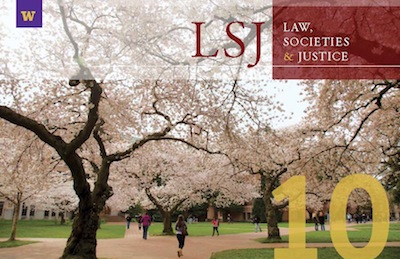 Nearly 60 local alumni of LSJ and its predecessor, Society and Justice, celebrated LSJ's 10th anniversary with program faculty at a lively gathering at the University of Washington Club on Oct. 18.
It was evident that all present had a very good time.
"The evening gave us a chance to share our sense of pride in the program with those who have been so critical to its success," said LSJ Director Steve Herbert. "I was very excited by the energy in the room, and I look forward to working with interested alumni to maintain that energy well into the future."
Martina Kartman, who graduated in 2009, said that the event was a great opportunity for her to reconnect with students, alumni and professors.
"The LSJ community offered me an incredible amount of support and guidance throughout my undergraduate time at UW," she said. "I feel very lucky to have developed my professional and academic interests under the guise of such a dedicated group of people and am excited now about continuing to be involved as an alumnus of the program."
Kartman said that the event allowed alums the opportunity to reconnect with the on-going work of LSJ, and to potentially be a part of it.
"I would love to participate in more events like this," said Kartman.
Al Compaan, alumnus and Chief of the Edmonds Police Department who also attended the event said that the event reminded him of his days as a Society and Justice major.
"On my way off campus, I took a walk over to Smith Hall and found room 203 which was the original site of Society and Justice and Dr. Stotland's mentorship," Compaan said, referring to Professor Ezra Stotland, the founder of SoJu. "I am glad to hear that his legacy continues, and has prospered and flourished since his retirement. He would be proud, as am I."
During the event, LSJ senior Boris Davidovskiy spoke about his time on the LSJ Rome study abroad program.
"It was an honor for me to be able to share," said Davidovskiy. "I benefited a lot from LSJ and the UW so it was an opportunity for me to give back."
Davidovskiy also said that the event was a great opportunity to network with alums.
"I think the event was good for networking and for building relationships with people. A lot of us got to talk about things we had in common and I met some interesting people," said Davidovskiy. "I was excited to be part of the event."
As Herbert and Ana Mari Cauce, Dean of the College of Arts and Sciences, reminded the crowd, LSJ has demonstrated remarkable success, with 150 majors, a dynamic faculty, and a nationally recognized reputation as an innovative socio-legal studies program. Beyond just the numbers, Herbert emphasized what he termed the "LSJ vibe," the powerful currents of energy that infuse the program, particularly in the classroom. For at least one alumnus, that resonated.
"It was a great success," said Mayli Hodak. "I was able to re-establish contact with old friends and renew that vibe I originally had from the program."
Judy Howard, the Dean of the Social Sciences Division from the College of Arts and Sciences, said that she was incredibly impressed by the event.
"It was a perfect celebration of LSJ, which really is a jewel," said Howard.