Submitted by Charlotte Anthony on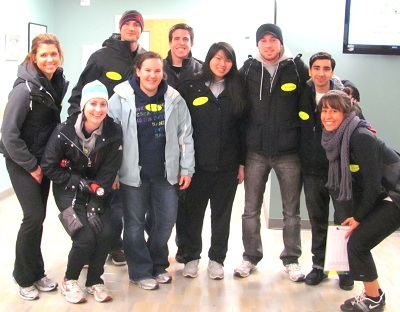 Community engagement is one of the cornerstones of the Law, Societies, and Justice Program.
As an example of this, six LSJ students and three alumni volunteered at the One Night Count during the early morning hours of January 27.
This meant that they helped to count men, women and children outside during one of the coldest days in the year in order to better gauge homelessness in our community.
The One Night Count is the largest community-organized count in the United States and it is organized by the Seattle/King County Coalition on Homelessness (SKCCH) and Operation Nightwatch. The Count is used to both document the nature and extent of homelessness in King County, and to build public engagement and action around this issue.
Sandy Nguyen, a junior studying LSJ and a minor in classical studies, said that it was important for her to volunteer at the One Night Count so that she could take part in something larger than herself.
"It is unfortunate that there are a large number of homeless people and yet they go unnoticed or left to fend for themselves," Nguyen said. "I believe that society has become desensitized to seeing homeless people sleeping in bus shelters or panhandling for money on the street corner because the homeless are seen as a tainted population."
LSJ senior Geoff Baillie, the lead for the undergraduates, said that doing the Count gives a snapshot of homelessness because it is done on the worst night of the year where not many people would want to be outside if they had the option.
"It's freezing and at 2 a.m. so the chance of anyone outside is rare so if it is like this in winter, imagine what it is like in summer," Baillie said. "I'm a little wary of the data they draw. The One Night Count has flaws but it's still needed. It's better to have a snapshot of homelessness then no shot."
Nguyen said that the goal of the One Night Count is to make everyone aware of how many homeless people there are in our neighborhoods and that there is still a significant need for programs that help the homeless or help prevent people from becoming homeless.
Nguyen said that being outside on the coldest night helped her gain some perspective of homelessness.
"Throughout the hours of the One Night Count, I learned how to feel some of the anxieties of what a homeless person might feel when they have to spend their nights on the streets," Nguyen said. "It was so cold that I was thankful my group was constantly walking. However, it took a lot of energy out of me when we finished canvassing our area of UW."
Munish Bharti, an LSJ senior, said that he learned a lot about homelessness in our city.
"It's easy for many of us to look away and pretend as if homelessness does not exist," Bharti said. "However, the One Night Count allows everyone to open their eyes and realize that this issue is not occurring in some far off country that is out of our control. It's happening right in our backyards."
Both Nguyen and Baillie said that while the streets were generally empty, there was a large presence of police near the university. They said that they were stopped by two different sets of patrol cars that were on the lookout for crimes that occurred near the Ave.
"It was a little different for me, I don't think I've ever strolled the U-district at night, the number of police cars at night are really different than during the day," Baillie said. "It was surprising how heavily policed our area is."
Baillie said it made him think about the classes that he has taken in LSJ.
"It certainly relates to policing and crime," Baillie said. "I don't think homelessness is a crime but sleeping in a park is. The ways laws shape our society matter."
Martina Kartman, who graduated in 2009 and helped to coordinate the event, said it was important for LSJ to participate in the One Night Count because it was a community event.
"I really do think that the core of LSJ goes beyond learning the academic and theoretical portion and really hopes to incite community action," Kartman said. "There are 800 to 1000 volunteers doing the same thing so it's important to be part of that and in solidarity with that effort."
Baillie also said that service events are a good way for alumni and students with like-minded interests to connect.
"I think working with alums was great because they've gone through what you've gone through and they've had the same professors and experiences and so talking with alums was a good way to get that perspective because they've been there," Baillie said.
He said that service events allow students to connect with your classmates in ways that you wouldn't otherwise be able to in class.
"If you have a service event, it's usually tailored to your interest so it allows you to connect with students with similar interests and commonalities," Baillie said.
Bharti also agreed that he really enjoyed that both alumni and undergraduates were on the same team.
"Whenever you have a group of individuals willing to work together towards a common cause, amazing things happen," Bharti said. "It didn't matter whether you were an undergrad or an alum. What mattered was that we all were there."
This article was composed by Charlotte Anthony.