Submitted by
Katelyn May Clark
on October 9, 2014 - 7:36pm
"9034309," Jessica Handy said. "I'll never forget it."
She's referring to her UW student ID number. After going to a small high school then transferring from a small college on the East Coast Handy was excited to enroll in a school so large she needed a 7-digit-number to distinguish herself.
Handy graduated from the UW in 1993 with a degree in Society and Justice, the predecessor program to Law, Societies, and Justice. Since graduating she has started Alumni groups in both New York City and Los Angeles. She also developed a scholarship program in New York City which recently gave away its first scholarship. She is currently in the process of kick-starting a similar scholarship in Los Angeles, where she lives.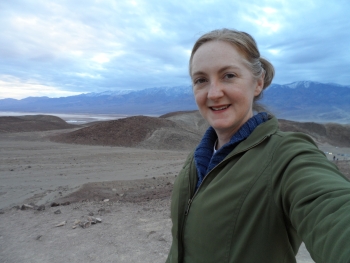 When Handy transferred to UW she had her sights set on a business degree. It wasn't until her Introduction to Deviance class, an 800-person lecture in Kane Hall, that she realized her interest in law.
"I loved it, I loved every second of it," Handy said. "We were given so much reading, countless books, but I read every word."
Handy enjoyed getting "swallowed up" by UW. Despite its size, Handy was able to develop relationships with numerous professors in the Society and Justice Program.
She named several, one of those being well-known defense attorney, John Henry Browne, Handy's Constitutional Law professor. She recounted a fond memory of him.
"He was a lot of fun, really energetic, and dynamic," she continued: "During a break in the 4-hour-long class, he saw me pull empty aluminum cans from a garbage can inside the classroom. I went out the door and put them in the recycling bin. I always did this, recycling was something that was very important to me. When we all returned to the classroom he announced that if he saw anyone throw a can in the garbage can again they would fail the class." 
At this time Handy is Director at CodeGreen Solutions, a sustainability consulting and energy engineering firm. As illustrated in her anecdote, she developed an interest in environmentalism early on. In addition to taking cans out of the garbage, Handy was the Recycling Coordinator for the entire Greek Community adjacent to the UW campus. As Recycling Coordinator Handy implemented the Greek's first recycling program.
Before serving as Director at CodeGreen Solutions, Handy held various positions from coast to coast. Initially, she worked in Human Resources for Price Waterhouse Coopers. After getting her masters in Security and Protection Management from the John Jay College of Criminal Justice she worked as a Property Manager for high-rise office buildings in New York City, where she designed and implemented the emergency preparedness information program for tenants and building staff.
While Handy's career has strayed away from the core-curriculum of the Society and Justice Program, she says certain lessons have assisted her in every position. One of the most valuable lessons Handy says her undergraduate experience taught her is to say yes.
"I say yes to everything," she said. "Someone asks me if I want to serve on the California Board for the Building Owners and Managers Association I say yes! I am invited to an industry cocktail party, I say yes! Because I know that, within reason, that if I say yes I can figure it out and that is one of the things I got out of my four-year degree."
According to Handy graduate school was a "piece of cake," after graduating from UW.
"I didn't realize until grad school how hard undergrad really was," Handy said. "I realized that if I can get through four years at such a demanding school like UW then I can do anything. When potential clients ask me – hey do you do such and such compliance work or can you help us meet our corporate criteria – whatever that is I say yes, sure, of course I can. I've learned, as I said, that I can do everything."
Kate Clark | Student Communications Assistant