Assistant Teaching Professor, LSJ/ Sociology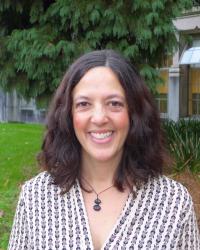 Biography
Ph.D., Political Science, University of Washington, 2014
J.D., University of Washington School of Law, 2000
Ann Frost  is a Full Time Lecturer in Law Societies and Justice and Sociology.
Ann's research focuses on state sentencing policies during the War on Drugs, and the issues for racial and ethnic minorities that arose from these policies. Her research also addresses the racial language, both explicit and implicit, employed by state legislators and others who advocated for or against the War on Drugs. 
Ann is a lawyer who practiced criminal defense as a public defender for 15 years. This professional experience fueled her interest in studying the political, legal, and sociological issues that impact the American criminal justice system and the individuals who become involved in it. She continues to research these issues and to enrich her classes with these studies.
Ann teaches classes in LSJ such as Miscarriages of Justice, and Punishment: Theory and Practice, and classes in Sociology such as Law and Society.